The Spiral Dynamics Discover: A Spiral Dynamics Assessment of Levels of Existence Theory
The Discover (DSC), based on NVC Consulting's Psychological Map, Form A, is newly updated and easily administered in an online format. It is available to NVC Consulting-certified and trained Spiral Dynamics Level 2 and above practitioners. Consisting of 40 statement clusters and 10 open item stems which serve as an internal validation, DSC is designed to evaluate overall levels in Gravesian thinking and coping preferences in a broad context. It does not purport to measure the eighth system, Turquoise in the color code, making it somewhat less susceptible to certain types of skewing, but also missing a data set that is important to some clients, not to others.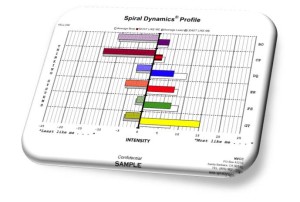 DESCRIPTION: The Discover instrument is suited for use with individuals, work groups, teams and larger organizational/culture studies. It consists of 12 scales – six "most like me" and six "least like me" dimensions. The format requires making two choices from clusters of 4 or 6 statements. These indicate individual preferences for six worldviews (Human Systems) patterns in the Spiral model. The six Human Systems are descriptions of how people see their worlds: their preferences for particular work environments, reward systems, career priorities, ways of behaving and interacting. The six worldviews measured are based in Clare W. Graves's Levels of Existence Theory and the dimensions consist of: Tribalistic, Egocentric, Absolutistic, Multiplistic, Interpersonalistic, and Systemic systems. These dimensions translate into a variety of workplace behaviors and preferences impacting group cohesion, conflict and collaboration, management approaches, organizational cultures, leadership styles, reward and leader preferences, motivation strategies, effective communication, interpersonal relationships, and sensitivity to various change, strategic, and organizational development approaches.
Examples of  Spiral Dynamics Discover (DSC) applications:
To understand individual leadership range, scope, personal style and match to the people being managed;
As a team-building instrument to identify and discuss personal styles, problems and conflicts and to foster understanding and collaboration;
As an organizational development to understand culture;
As a consulting tool to track organizational flows;
For insight into work group dynamics and the roots of interpersonal or interdepartmental conflict;
To plan a best fit approach to individual, group or team motivational needs;
For personal growth, development, insight and understanding of others;
To understand how differences in worldviews impact human affairs; in building greater awareness of human variability…
TIME REQUIRED FOR COMPLETION: 30-60 minutes. Internet connection needed. Set browser to accept cookies.
For more information, contact us…
The National Values Center Consulting (NVC Consulting)
P.O. Box 40110
Santa Barbara, CA 93140
(805) 962-0366 phone
(805) 962-0306 fax
info@spiraldynamics.org
For More Information...
Fill out the form below to learn more about our programs.