The Spiral Dynamics® Change State Indicator
A Spiral Dynamics Assessment of the Process of Change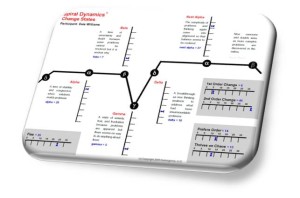 The Spiral Dynamics Change State Indicator (CSI) is easily administered online. Like the VPII, it is available for a one-year trial period to NVC Consulting-trained SD Level 1 practitioners. and on a permanent basis to SD Level 2 and above practitioners via NVC Consulting's proprietary Spiral Dynamics Spiral Survey System. Consisting of 30 questions designed to measure change readiness and preferences, it suggests the degree of ease or resistance individuals, work groups, and teams might experience during a change process. It also gives a good indication of stress and can point to a direction of systems change when used in conjunction with the VPII or Discover (below).
DESCRIPTION: The Change State Indicator (CSI) is a versatile tool with a total of ten scales. Five of these scales evaluate travel along the "states of change" experienced by people as they either migrate from one Gravesian Value System to another or move from stability through uncertainty and turbulence and back to a new kind of stability on some aspect of living. Other scales address preferences for kinds of change, order and chaos, and the perceived ease or difficulty of changing. These findings translate into a variety of workplace behaviors and preferences impacting group cohesion, management, culture, ability to innovate and learn, forms of communication, training and support needs, leadership preferences, strategy implementation, etc. Understanding these dynamics can be crucial in any intervention. It is a good indicator of degrees of stress, as well as a useful tool for figuring out what kind of change will be appropriate for an individual or group.
The Spiral Dynamics® Change State Indicator has been used for the following and more:
To plan a best-fit approach to change for an individual, group or team;
To understand how workplace stress might be impacting individuals and groups;
As a team-building instrument to identify and discuss problems and conflicts;
During restructuring for course correction and "getting the temperature" of an initiative;
As an organizational development approach for more congruent change initiatives;
As a coaching guide for executive coaches to better understand the client journey;
as a consuting tool to track the change trajectory;
For personal development, insight and understanding, and more …
TIME REQUIRED FOR COMPLETION: 15-20 minutes Internet connection needed. Browser must be set to accept cookies, though no personal information is harvested other than the stated demographic questions.
For more information, contact us, or click below to register for the next certification …
The National Values Center Consulting (NVC Consulting)
P.O. Box 40110
Santa Barbara, CA 93140
(805) 962-0366 phone
(805) 962-0306 fax
info@spiraldynamics.org