Spiral Dynamics® Certification Training
Spiral Dynamics Level 1 Certification Training
Spiral Dynamics (SDL1) Level 1 Training: The four-day in-depth immersion seminar training provides participants with a thorough grounding in the Spiral model and Dr. Clare W. Graves' ECLET model, often called "The Graves" in the NLP world. This course will give you a chance to learn how these models, theory and tools can be applied in real-world settings, to interact with others who have used these materials and approaches practically, and to explore its applicability to organization development and human resource aspects through a systems lens.  Some of the key outcomes from the training are:
You will learn:
Going Beyond "Colors" to Practical Use
Differentiating vMEMES  from Memes
Change and Transformation Models
The E-C Theory of Dr. Clare Graves
The Double-Helix  Model
Basic (nodal) Levels of Existence
P-O-A Formula for Leadership
Six Conditions for Change
Proper and Ethical Use of Assessment Instruments
You will receive:
Spiral Dynamics Change Readiness Tool
Spiral Dynamics Value Systems Measures
One-year trial license to the Spiral Dynamics Proprietary Assessment Suite
Spiral Dynamics Training Manual
Spiral Dynamics Diary
Spiral Dynamics Management Approach
Spiral Dynamics Conceptions Analysis Approach
Click here to inquire about Registration for Spiral Dynamics Level 1 Certification Training
Spiral Dynamics Level 2 Certification Training
Spiral Dynamics (SDL2) Level 2 Training: This three-day application + transitions seminar provides a more extensive look into the theory and applications of the models introduced in SDL1 and how to apply them to real-world situations. The SDL2 training approach is to deepen understanding of these independent and interdependent models by going further into the research base, examining different applications through case studies and creating opportunities for participants to analyze your own cases, problems and organizations by working with four to five volunteers in an Action Learning format.
* Please note: Successful completion of NVCC's SDL1 is a requirement for admission to SDL2.
You will learn:
20 Psychological Characteristics:
A Comparative Analysis of the Core Systems
Transitions: Recognizing, Understanding, Predicting, Facilitating, Managing Passages Through 21 Entering, Nodal, and Exiting Phases
Recognition Principles for Transitional Stages
P-O-A Formula for Leadership
Congruent Strategies for Leadership and Coaching
Proper and Ethical Use of Assessment Instruments
You will receive:
License to Access the Spiral Dynamics Change State Indicator
License to Access the Spiral Dynamics Value Profile II
License to Use the Spiral Dynamics Proprietary Assessment Suite
Spiral Dynamics Training Manual
License to Access the Spiral Dynamics Discover
Spiral Dynamics Project Pak for Interview andAnalysis
Click here to inquire about Registration for Spiral Dynamics Level 2 Certification Training
The Meaning of Spiral Dynamics Certification
Certification to legitimize competency in the models covered in Spiral Dynamics programs is important. The material–including assessments, theory and applications–is too complex and difficult to be acquired through superficial glimpses or wishful thinking. Merely sitting through a seminar is no assurance of understanding, so we have instituted a process for students to demonstrate their understanding of the model and underlying theory. This is the only way we have of cross-checking competence with the point of view.
Unfortunately, a growing number of people claim to be "experts" with the Graves Theory or in "Spiral Dynamics", often based on reading the very limited publicly available publications or attending an abbreviated introduction. Spin-offs have diluted the material and distracted from its refinement. While some of these people are doing useful work, others are not because their sources are so far removed from the original work so as to be almost nonsensical, their reinterpretations baseless, and many claims absurd. The potential client seeking help with Spiral Dynamics tools needs a way to tell the difference and not to fall into the trap of slick talk, mighty egos, and grandiose promises.
People who want to represent themselves as authorities on Graves's models and the Spiral models need to understand the specifics of this point of view in some depth before they begin flying the flag—even when they have strong credentials in other areas. We have found that a background in other fields, even in psychology-related ones, is no guarantee that this point of view makes sense to someone, or that they can convey it reliably to others. The theory predicts that people at different levels will understand and apply it accordingly, regardless of their intelligence or experience.
Thus, many of NVCC's Spiral Dynamics resources and advanced programs are available only to people who have completed our certification courses so as to protect the work from abuse, misuse, and exploitation. Even though we can't monitor the performance of independent practitioners, we do make an effort to ensure that our materials are provided only by people who have sought out a basic level of theoretical understanding and agreed to certain ethical standards. We wish we could say that is universally true, and appreciate being informed if there is questionable use.
We will be listing many of the people who've completed full certification training on the People page of the Resources section. If you have a question about whether a specific person claiming to be affiliated with us has attended our training or a certification course, please call or email us for confirmation.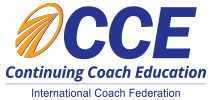 Coaches who successfully complete the full course of  SDL1, SDL2, and Practicum receive Continuing Coach Education credits (CCEs) from the International Coach Federation (ICF):  up to 29 hours Core Competencies and 28.5 hours Resource Development. Read about the Practicum.
For More Information Contact:
The National Values Center Consulting (NVCC)
P.O. Box 40110
Santa Barbara, CA 93140
TEL: (805) 962 – 0366 FAX: (805) 962 – 0306
info@spiraldynamics.org